This article is about Blogging vs. Vlogging Best for you in 2023?
Here is the most comprehensive guide to finding the best earning opportunity between Blogging vs vlogging.
The best part?
I'm going to show you some tactics and some facts that are working in 2023 to become successful in these fields. 
In short: if you want to become successful by creating your vlog vs blog then this article will help you a lot because here we will also discuss how technical or non-technical people can get success in blogging and vlogging.
Let's get started.
Today in this article we will discuss a detailed comparison between Blogging vs Vlogging. Many new bloggers are confused between them.
So in this article, we will discuss every fact that can help us to become successful bloggers vs vloggers.
As we all know that today you can work on both these platforms without any technical knowledge.
There was a time when you needed computer knowledge [coding] to create a blog, but today bloggers are running such blogs with the help of a WordPress site and earning well.
Similarly, vloggers are also doing good earning in different niches today.
So let's start with blogging now, and know-how blogging can be profitable.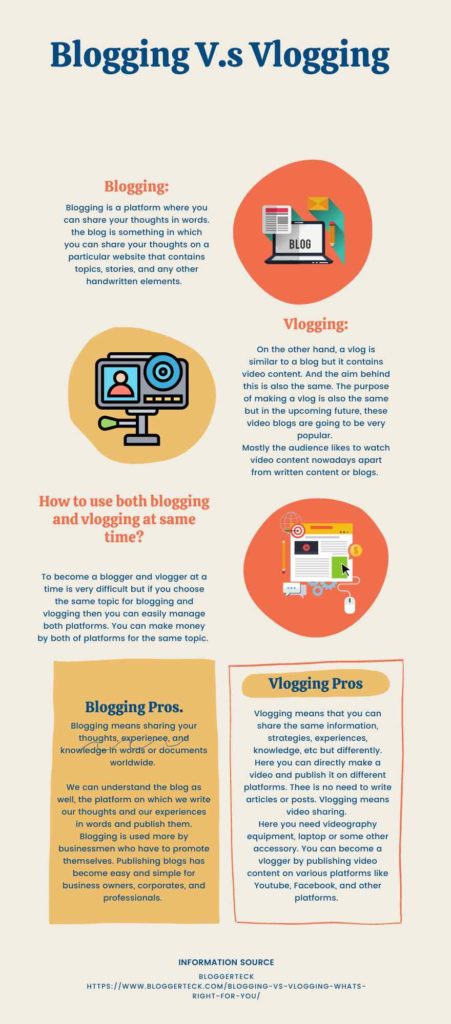 What is blogging vs vlogging?
It means that nowadays both the platforms are very popular for making money and people are confused about choosing a platform between them. So here is the comparison between both the platforms which makes it easy for you to choose a good platform between these two.
What is Blogging:
Blogging is a platform where you can share your thoughts in words. A blog is something in which you can share your thoughts on a particular website that contains topics, stories, and any other handwritten elements.
In short, (Blogging means sharing your thoughts, experience, and knowledge in written format or documents, worldwide.)
Or
A perfect Blog Post provides their readers the best knowledge in a specific niche for their visitors.
Publishing blogs has become easy and simple for business owners, corporates, and professionals.
Blogs can be easily started, but are difficult to get traffic and audience to a new blog. We can start a blog without coding knowledge. But to get a higher ranking you have to know all the concepts of SEO.
Even you can start your blog for free, without any initial investment. There are many blogging platforms in the market today which host your blog for free.
Many Bloggers are using platforms like WordPress.com, blogger.com, tumbler.com, Wix, etc. These are the platforms where you can start your blog free with their registered domain extension.
Blogging does not require expensive equipment, you can perfect a blog with a laptop or computer and good internet connectivity.
If you know English writing or any other writing skills well, then bogging can be very helpful for you to double your monthly revenue.
By following some techniques like ON-PAGE SEO, OFF PAGE SEO, keyword research you can easily rank your blog on all the search engines to get a huge amount of traffic.
Some problems a new blogger can face in their initial period
If you have a new blog, you have a shortage of readers in the beginning. A lot of hard work has to be done in bringing traffic and audiences to new blogs.
If you are facing any of these problems, then you have to pay more attention to these powerful tips.
You should know Search engine optimization strategies to make your blog visible to Google, or other search engines.
You should have proper knowledge of keyword research, meta tags, ON-Page SEO strategies, and OFF-Page SEO strategies to make your blog visible to all search engines.
Apart from this, you have to keep your blog regularly updated. If you keep your blog regularly updated, then your blog can also rank on the search engine, and if your professional skills are good and your reader likes it, then he/she can visit your blog again in the future.
Always make sure that you provide a good and knowledgeable article to your readers.
Your writing skills should be attractive.
Whichever platform you choose to blog on, it becomes your first duty to check theme, template, and speed.
There are some techniques that every new blogger should know. These techniques can be learned during blogging there is no need to take special classes to learn these practices.
In blogging, there are many different ways to make money like you can go with pay-per-click affiliate programs and also go with affiliate links. Blogging also helps in Social media Marketing.
What is a blog? [Blogging vs Vlogging]
The blog is a platform where you publish handwritten content globally. It can be anything according to blogging niches.
How to start a blog and make money
To start a blog the only thing you need is to have good writing skills and some basic knowledge of SEO.
You can start a blog for free but here you have to do more hard work to customize your site and article but if you go with a wordpress site then you can customize your site with free wordpress plugins and here you also have a chance to use Yoast SEO plugin for ON-PAGE SEO, which matters a lot in blogging.
These are some easy steps to start a blog. Now how to make money? Right
To make money you have 2 main options to monetize your blog.
Pay-per-click affiliate programs pay you money for a click done by your visitor on your site. Google AdSense is the best pay-per-click affiliate program for new bloggers.
Affiliate marketing is the best way to monetize your blog because in affiliate marketing, the audience is targeted and purchases products that pay affiliate high commission rates.
These are the ways by which you can monetize your blog.
Pros of blogging 
You can start your online business with low investment or for free too.
Best way to make money from home.
No need for expensive equipment.
You can represent yourself with the help of your blog.
Blogging helps you to make money in a lot of different ways.
Cons of blogging 
Here is a lot to learn to become successful in blogging.
Time taking.
Hard work
---
What is vlogging?
On the other hand, a vlog is similar to a blog but it contains video content. And the aim behind this is also the same.
The purpose of making a vlog is also the same but in the upcoming future, these video blogs are going to be very popular.
Mostly the audience likes to watch video content nowadays apart from written content or blogs.
Vlogging means that you can share the same information, strategies, experiences, knowledge, etc but differently.
Here you can directly make a video and publish it on different Video platforms. There is no need to write articles or posts. Vlogging means video sharing.
Here you need videography equipment, a laptop or some other accessory. You can become a vlogger by publishing video content on various platforms like Youtube, Facebook, and other platforms.
I know many of you are Vloggers too. And knows how to make money by Vlogging.
Many Vloggers set up their professional youtube Account which is helpful to edit or publish videos easily.
There is no need for professional writing skills; you only have to select a topic on which you can make several videos and publish them.
Continuously providing video content can make you successful in this field.
Here you also need video editing skills, to make your vlog attractive and which helps your viewer to engage with your vlog.
Here you get a chance to reveal your face and provide attractive content to your viewers. Videography is more in demand in 2023 than blogging and photography. 
Apart from long videos, shorter videos are more liked by the audience.
So providing video content can make you successful in a short time.
What is a vlog? [Blogging vs Vlogging]
A vlog is a platform or a channel that publishes video content. We can also call it a video blog post.
How to Start a vlog and make money.
It's very easy to start because of youtube because it hosts your videos for free on a high authority website named Youtube, which helps you to rank high in your niche.
The only work is to make a perfect attractive video for youtube and publish it with a large description according to your focus keyword and also make sure to start a channel on only one niche.
But youtube has a policy that if you want to monetize your youtube channel, then your youtube channel must cross 4000 watch hours along with more than 1000 youtube subscribers.
If you cross these numbers in one year then you can apply for google AdSense for your youtube videos.
This is the way by which many YouTubers or vloggers are making money.
Some problems a vlogger face in the initial stage of vlogging.
If you are not a professional Vlogger or thinking about starting your youtube channel, then you must know that vlogging needs these types of equipment which is costly to purchase. 
You must have a video camera that can capture videos in high definition. One laptop or computer is required to edit videos, and the laptop or computer must have a good processor, SSD, And a good graphic card that can make your editing soft.
This setup can cost you some Dollars. This is the reason why there are fewer vloggers because of some restrictions.
You can make vlogs easily with mobile software, but they can't provide you such the facilities that computer software provides to edit videos.  It is easier to edit videos on a computer or laptop than on a mobile. 
And one of the big Cons of vlogging is that some of us can't make content or feel shy while facing the camera. This is the big reason that many of us can't start our youtube channel.
In my opinion, you have to start your youtube channel today and post anything that you can post on this channel. Time is the best teacher. Time can teach each concept of vlogging. So guys, start your youtube channel today.
  For one or two or at least 10 videos, you will be shaken by the camera, but later, you will get used to it, and you can also do master vlogging. So guys, also Go for Vlogging today. 
Pros of vlogging
Vlogging is best in terms of popularity
Easy to start
Best online earning source.
Gaming video channels can make more earnings with gaming affiliate programs
Cons of vlogging
Difficult to get initial views.
Set up is expensive
In 2023 vlogging is on fire, so you have to fight with other Vloggers because the competition is so high now.
---
My opinion to choose one in between Blogging vs. Vlogging
You can find out from this blogging vs vlogging article which platform you have to choose. Which platform can you use to become successful?
In my opinion, start your new experience with both blogging and vlogging. Both platforms are capable of making you successful, but it depends on you how you use these platforms.
In my opinion, select both platforms, you chose the same topic for blogging and vlogging, and made videos and articles on it so that your reach will reach more people and traffic will come in millions on your blog vs vlog.
Google also ranks those blogs and blogs more quickly, both in terms of video and writing. If the content you provide is available on the internet in both forms then google also promotes your content and if google promotes content when you can't imagine how much traffic or readers you can get through it.
The only difference between Blog and vlog is to provide your visitors information through 2 different mediums one is written articles and the second is video format.
FAQ's Blogging vs Vlogging.
Q. Are blogging and vlogging better?
Ans. it all depends upon your skills. If your writing skills are excellent then you can go with blogging, and if your talking skills are awesome then you can go with vlogging.
Q. Where can I start a blog in 2023?  
Ans. You can select these platforms. These are free as well as paid.
Q. Is blogging Dead in 2023? 
Ans. No, blogging is not dead in 2023 and also a great platform to make money for about the next decade. 
Maximum people are visiting blogs or making blogs day by day. Professionals are also making new bogs to increase their revenue. So we can say that blogging is a good platform or field to make money for about the next 10 years.
Q. How to use both blogging vs vlogging at the same time?
Ans. To become a blogger and vlogger at a time is very difficult but if you choose the same topic for blogging and vlogging then you can easily manage both platforms. You can make money on both platforms for the same topic.
Q. How much does a vlogger make?
Ans. a vlogger can make a huge amount of revenue it all depends on CPM if you are working as a vlogger on youtube one of the best video uploading platforms.
Different niches have different CPM (click per mile).
For your understanding.
Niches related to (how to make money online) CPM is higher than others.
You can also earn money here by affiliate marketing.
Q. How much does a Blogger Make?
Ans. Blogger can make money with their blog in different ways like
Pay per click affiliate programs
Affiliate marketing
Sell out products and services.
For Example.
If you start a vlog on Travelling. Then you can make a video and publish it and then you can write an entire article that you experienced while traveling to different places.
This is how you can manage both platforms.
Hope you like this article, if you like then please share with your friends that they can start their Blog or Vlog.